In making your bathroom look bigger, you need to increase the floor space and remove any visual impairment to improve its overall look and feel. But to physically make your bathroom bigger, you need to knock down walls.
However, this article is all about showing you a few adjustments you can apply to make your small bathroom look bigger without having to break the wall.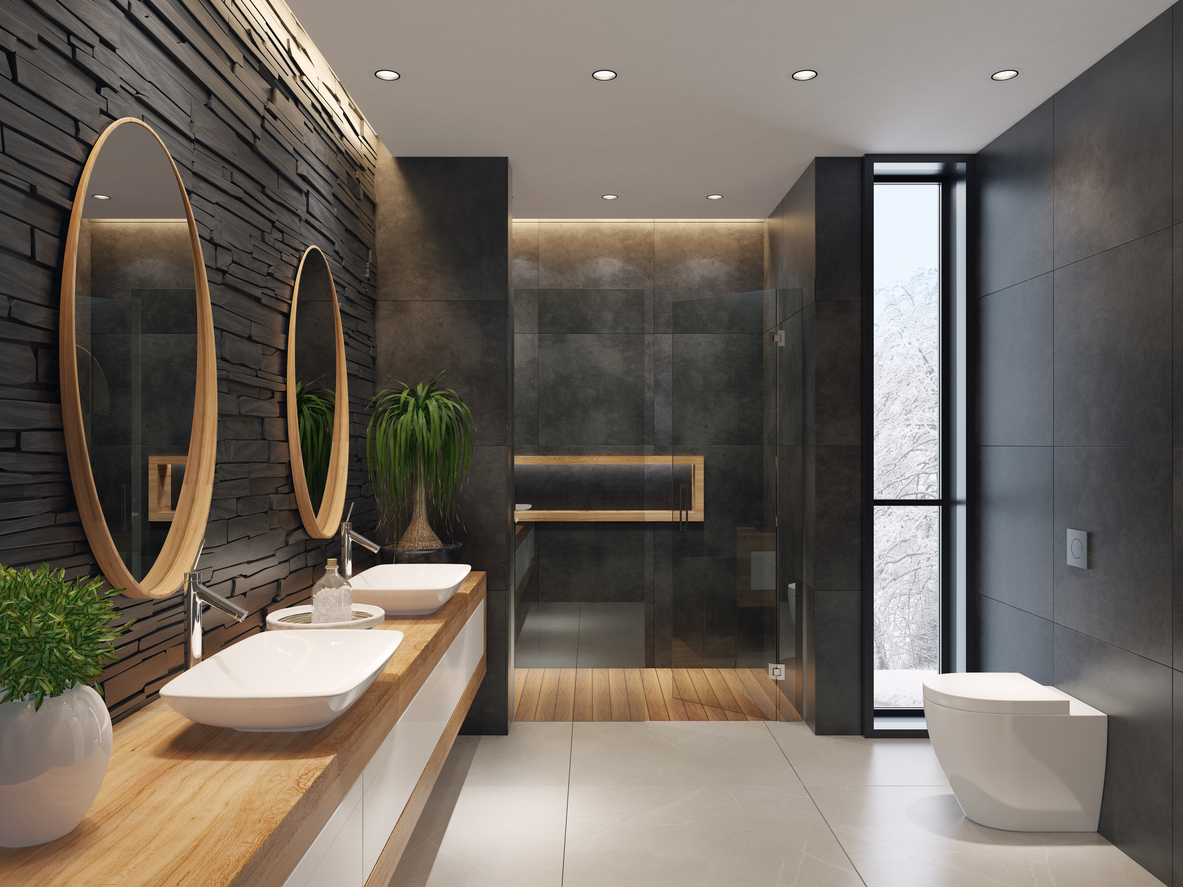 Use a pocket door
Consider using a pocket door if you have a small bathroom. Pocket doors will slide into the wall saving you about ten sq. ft. Also, they are safer in case a person or an object is behind the door; it wouldn't hit anyone.
Move or Change the toilet
The toilet is usually the first thing you see when you walk into older homes. This arrangement makes the bathroom feel smaller. To make the bathroom look bigger, move the toilet between the vanity and the shower or bathtub. 
This simple change will open up more space in the bathroom. Another option would be switching from the standard toilet to the wall-hung toilet.
Use a curbless shower
Curbless walk-in showers will add a modern, luxury look to your bathroom. Besides, curbless showers open up more space, making your bathroom seem more prominent, and it's also easy to clean.
Upgrade your storage space
If you choose to install a curbless shower, build the storage directly into the wall. It won't take much space, and it can hold things like shampoo, conditioner, etc. Also, consider options like a combined toilet brush and toilet paper holders, glass shelves, and small towel hooks. It will create the feel of a bigger space.
Install mirrors
If you have an area in the bathroom that isn't cluttered, like an empty wall, install a mirror across from it. The reflection of light bouncing off those areas will create an illusion of increased space. Also, you can install a double mirror in your medicine cabinet to create a similar effect.
Improve Lighting
Improving the lighting is a great way to enhance the look and feel of your bathroom. Install a bigger window with better lighting above the vanity, or get a medicine cabinet with built-in lights. If your bathroom doesn't have windows, add a skylight or solar tubes.
For your bathroom remodeling projects and upgrades in Baltimore and the entire Maryland area, call the professionals at Beltway Builders. We also handle other remodeling projects and upgrades, including basement remodeling, kitchen remodeling, and home additions.